These twin FENIX family of big brother spotlight & little flood light torches have the right lighting for divers underwater, providing different illumination for different purposes. Rugged, simply designed and easy to use and at a decent price range, it's hard to go wrong with these FENIX brothers in underwater photography, video or just fun diving in general.
Let's start with the big brother FENIX SD20. Basically, it's a very easy to use torch for macro photography lovers, night divers and as a general torch to light the colors on your dive, day or night.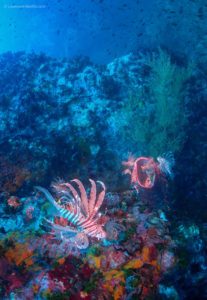 It's perfectly bright enough to light up those cracks & crevices where we find our curious critters. Especially in the dark, this torch gives a nice spot to focus our vision and then more light outside the spot to illuminate a larger area to help us navigate in the dark too.
In fact, the 1000 lumen spotlight with a run time of 3 hours, diffuses nicely past the main spot so it is great for macro photographs, providing just the right flair to bring out that nudibranch or lion fish. Depending on your camera though, it may need to push it's settings, like increasing the auto ISO, to get a sharper focus on your macro subjects. And here's a Photo Pro Tip: If you have a slightly larger animal to light up than the torch's spot, move the torch away from your subject to increase the spotlight size.
On a night dive with your camera, take advantage of the red light (105 lumens) instead of the two intensities of white light, so as to not attract a lot of the tiny underwater insect-like-animals that could cloud up your cameras vision like an underwater Mac-Snow-Flurry. Just rotate the switch to the white light just before photographing your memorable night dive discovery!
Both these FENIX sibling torches are rated to 100 meters and have the red and white LED bulbs and three different intensities modes plus one battery indicator mode on the rotating magnetic switch for both torches to aid photographers & videographers in the dark.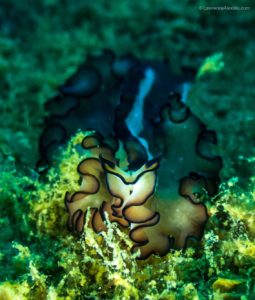 The full aircraft-grade aluminum shell is very strong and guards against corrosion. Especially with double O-rings being the only seals, these reliable torches will lessen the chance of a flood. From wet to hot, both these torches come with an onboard computer chip which can detect the internal temperature and battery power remaining & will automatically lower the light intensity to reduce over- heating and preserve the remaining battery power. Super smart!
The battery meter mode on the rotating magnet switch can be used to manually check the remaining power in the batteries. However, sometimes it can be accidentally bumped on, so here's another Tip: simply loosen the O-ringed enclosures (not the magnetic switch) to completely disconnect the batteries to avoid accidentally draining them. Just don't over loosen them underwater and flood the torch!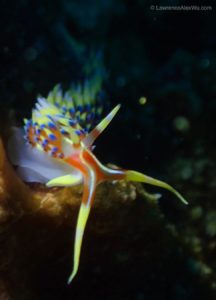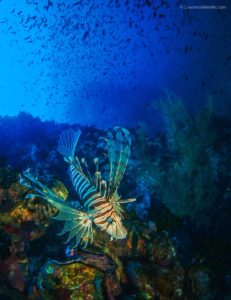 Also, take special note of the battery shaft orientation on big brother FENIX SD20, because if it is re-assembled in reverse, the torch will not operate properly...& I discovered this from my own confusing experience, after fully disassembling the torch! Hahaha...
So let's not forget little brother FENIX SD11 with its super wide flood light, which shines brightly for your video on your night dives, light up the underside of wrecks, helps as a camera focusing target light and made the perfect model light in photos for my model (see photo)!
With the same white and red LEDs with double intensities, and a floodlight angle of 110o, this little torch would shine into my photos from my model's hand without blowing out the photo. For shooting night videos, it's wide floodlight lit up my shots even with a wide angle lens adapter on my camera.
And even on a single full battery charge, this baby torch would last up to 2 hours at full intensity. Another feature on the included 18650 batteries, is that they can be charged with a standard USB Android phone charging wire. So no need to load extra weight into your dive bag carrying separate battery chargers. Very cool!
So for those FENIX SD20 & SD11 owners, go explore they're full abilities underwater as there's only a few of these babies left in the market. Otherwise, the news is in the wire, that these two siblings are expecting to double the family size with 2 new updated matching twin torches, coming soon!
Text and Image by Lawrence Alex Wu